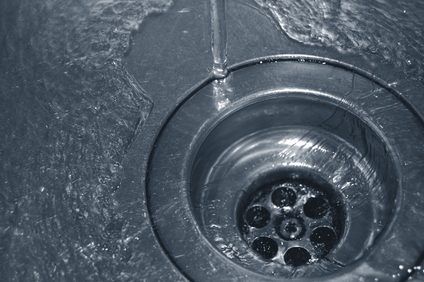 Drain cleaning simply means to clean pipes which lead to the sewer lines.  Sometimes this process is not simple.  Drain cleaning is one of the most common plumbing problems.
It can happen any day of the week, any hour of the day, and without any warning at all.  It can be any number of things, but the blockages are usually hair, clumps of toilet tissue, and grease.   In addition to the most common, the blockage can be soap, food, coffee grounds, hot wax, baby wipes, etc…
In some cases, an over the counter remedy can work, but it is not a guaranteed fix.  The chemicals are harsh and toxic, caution is needed.  A fast and always efficient method is a snake.  A snake can clear any width and length pipe.  They come in a variety of sizes and break apart the offending item which is blocking the path to the sewer.
Drain cleaning is vitally important to keeping your home free of sewer waste.  If the block becomes too deep, too large, too thick, you may experience back-up into your home.  The cleanup from this is time consuming and, quite frankly, messy and gross!  Preventing a major back-up is always a wise plan.
Calling For Plumbing Service
A professional plumber will know what size snake will work best for your particular drain cleaning needs.  A sewer camera may be needed to assess the situation fully; however, most anything and everything in the line can be seen and addressed.   Sometimes, but not always, if there is a small block, there can be something bigger down the line.
For example, if you see toilets or sinks slow to drain, you may indeed have blockage of toilet tissue which needs drain cleaning, however, further down the line, there may be tree branches which are not allowing the toilet tissue to pass.  Chemical cleaners cannot degrade tree branches, even if they are small and weak.
If you decide to take the chemical route first, make sure you read all the labels very carefully.  Certain types of pipes and materials may not be compatible with the liquid compound.  Also, always keep these types of chemicals locked up and away from children and even your pets.  If consumed, they can be deadly.
If you are feeling at all reluctant about calling your plumber for what may seem a 'simple' problem, give the office a call.  Get your situation assessed by an insured and licensed plumber.  It could make the difference between a small inconvenience and a colossal mess.