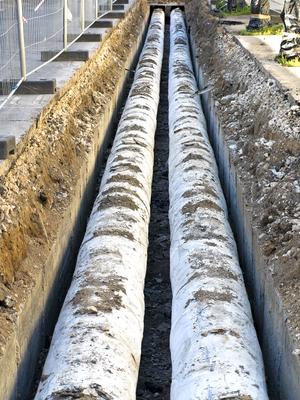 One of the greatest human needs is one of the greatest enemies to your home – water.  Water build-up around your home can compromise, damage, and even erode your foundation.  It can also infiltrate your basement and cause a major flood.  Termites and other pernicious varmints are attracted to soaked soil and wood.  If the water gets into the walls, it can damage electrical wiring.
The answer to this most fierce of home foes is a French Drain.  French Drain is not as common a plumbing term as most plumbing terms, but it is perhaps one of the most important plumbing investments that can be made.  A French Drain is a drainage system which directs water in a downward slope away from your house and its foundation.
A French Drain is made with perforated pipe, gravel or sand and encased in landscaping tiles or a concrete ditch, (the concrete ditch has to be poured.)   The pipes allow for a faster and more efficient flow of water away from your most valuable asset.  French Drains can lead to a downhill slope or dry wells.  It can also send water to a garden which is supported solely by rain and run-off water.  The plants and flowers will consume the excess water saving it from just drenching soil.
History of French Drain
Invented in the 19th century by an attorney in Massachusetts, the French Drain system has saved many a basement and foundation from disaster.  What happens in your basement or around your foundation is not a, "what happens in Vegas stays in Vegas," situation.  People like to be proud of their homes and pay a lot of attention to lawns, gardens, wall colors, nice ovens, etc…but what cannot be seen is equally as important as what can be seen.
A French Drain systems involves planning, but worth every moment of work and definitely worth every dollar spent to make this essential improvement.  It can be installed by a dedicated DIY-er, however, your plumber is an expert in water, pipes, and keeping water in its proper place.
***REMEMBER, IF YOU ATTEMPT ANY DIY PROJECT THAT REQUIRES DIGGING UNDERNEATH OR AROUND YOUR HOME, YOU MUST CONTACT YOUR LOCAL GAS COMPANY SO THAT THEY CAN COME OUT AND MARK THE LOCATION OF YOUR GAS LINES.  IN SOUTHERN CALIFORNIA, CALL 811.  PLEASE GIVE THEM ADVANCED NOTICE OF TWO DAYS MINIMUM, AND WAIT UNTIL THEY MARK THE LOCATION AND DIAMETER OF THE GAS LINES BEFORE YOU START TO DIG.