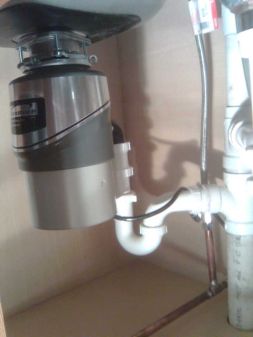 Garbage disposals came on the market in 1935. Depending on where you live in the United States, you may or may not have a sink garbage disposal in your house. Generally, it is city by city as to where disposal installations are approved. New York City finally rescinded a ban in 1997. And in fact, as recently as 2008, Raleigh North Carolina attempted unsuccessfully to ban the replacement and installation of garbage disposals. As of 2009, approximately 50% of homes had disposal units installed (U.S. Census Bureau, 2009.) The proper use of a disposal manages waste that can then be treated at wastewater plants thereby reducing the amount of waste going to a landfill.
Getting Rid Of The Clog
Consider your disposal as a workhorse in your kitchen. We often get calls about a clogged garbage disposal. Disposals should have no problem actually grinding up the waste. However depending on water used (how much or how little) and perhaps how the waste reacts to the water you may end up with a clog. Usually the garbage disposal clog will be in the trap found on the waste discharge side of the disposal. To get rid of a clog it may be necessary to disconnect and remove the trap from the discharge drain of the disposal and look in the trap for obstructions. Some recommendations to avoid clogs are: use adequate water to flush when grinding and do not grind things such as egg shells, coffee grounds and peels like potato and banana. Be sure to continue to grind with water for about 30 seconds after food is ground. Regularly grind up pieces of lemon peel and ice cubes as occasional maintenance for your disposal.
Reckon & Reckon Plumbing, Inc. is experienced in helping troubleshoot garbage disposal issues, fixing, repairing or replacing garbage disposals. And in the case of replacement, we are able to help you determine the best garbage disposal for your situation.
So if your disposal stopped working and you would like assistance, contact us and we'll solve your garbage disposal problems. Don't forget to use one of the coupons on our website!