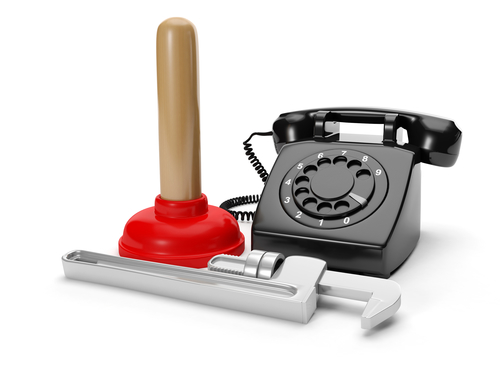 It has been known to happen during the holidays, you have a house full of people, and you have a plumbing emergency!  Not all incidents involving a plumbing emergency can be prevented, you can be ready for some of them by keeping tools on-hand.  The first tool on the list is a plunger.  A plunger is inexpensive, readily available at every hardware store, home supply store, and major department store.  They range in price from $5.00-$25.00.  The rubber cup at the end can be flat at the edges or have a lip for stronger suction.  It is best to determine which fits in your toilet before you purchase one as you want the right fit in the event of a clog.  If it is just a small amount of paper, it is usually easy to push out into the main sewer line.  Larger paper clogs may require more force, but can usually be loosened.
If there are roots blocking the line you will more than likely know if dirt or twigs come up to the surface of the toilet after you plunge.  At this point, stop plunging, and call us for some immediately relief of your clogged lines.  If you are confronted with a plugged sink, tub or shower drain, you can try a liquid de-clogging product, but choose very carefully.  Find a product which is environmentally safe, chemical-free, and kind to pipes.  They do not work as well as a professional snake, but if you decide to try this before contacting us, be sure to follow the instructions on the packaging very carefully.
Another thing you can try is a mini-snake.  A mini-snake can be purchased at a hardware store.  It may work for a clog close to the surface, but will not work for a deep and large clog.  Trying to force it far down the drain can cause more damage.  If it does not work promptly, stop and contact a plumber.  The worst emergency you can have is a broken main.  Whether it is the pipe that brings the water into the home or the sewer main which takes waste out to the street, a rupture is not something you can handle on your own.  What you can do for a break in the lines that bring water into your home is turn off the main water valve.  This will stop the rushing water.  You will need to have this addressed by a plumber as soon as possible.
(A line rupture to the sewer is urgent.  This can not be handled by any means other than calling a  plumber immediately.  Running waste will contaminate your lawn, cause a potential health hazard, and will be dangerous to your children and pets.  Please, address this type of situation professionally, and quickly.)