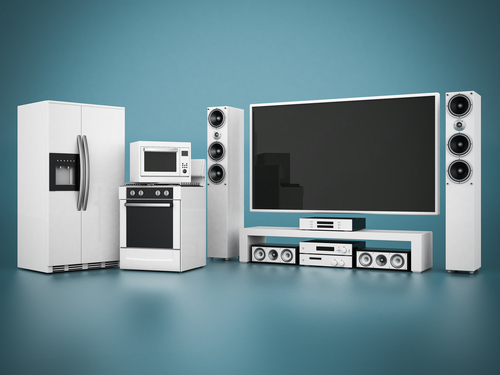 Home appliances are expensive purchases. Choosing new units requires research and planning.  If your purchase is not an urgent need, you can wait for a fabulous deal. Never rule out using outlet stores and online sites to get large appliances. Often, buying more than one at a time can save even more money.  Check out the small stores and the big stores alike as retailers know the deal is what draws the customers to the door.  Once you get the pricey item or items in your home, make sure to care for them properly.  Here are 6 tips to keep your appliances in good running order and safe to operate:
1-Always follow the directions on your appliances.  There is no such thing as improvising when it comes to installing home appliances.  Call for professional plumbing help if you need assistance hooking-up appliances that require gas or water.
2-Making sure appliances are running well can help keep your plumbing in good stead, and vice-a-versa..  Plumbing is necessary for dishwashers, garbage disposals, washers and dryers, water heaters, and water dispensing refrigerators. If your plumbing lines become clogged or your sewer lines are bad because of improper use of an appliance, it could ruin the appliance, and further damage plumbing.  If you are planning a total appliance replacement and have old pipes, consider re-doing the plumbing first.
3-If your appliances clog, never force the lines.  Never use snakes or liquid de-cloggers in any of your appliances. Call a professional plumber.
4-If you run out of dish soap or dishwasher soap, never reach for just anything marked "soap."  All soaps are not created for equal utility.  Just hold the load and wait until you can get precisely what the appliances require.  You can destroy units, erode lines, and make clogs.
5-Exercise caution when you need to work on your appliance.  If you are remodeling or need to perform repairs, always turn the power off at the power control panel.  Each room and appliance has its own trip button at the main panel. These are high wattage units and extremely dangerous if left plugged in during installation and repair.
6-Gas appliances, such as ovens, stoves, water heaters, and dryers should never be installed or repaired while the gas switch is in the on position.  Gas becomes dangerous very quickly.  Burns, fires, and explosions are all possible when directions are not followed explicitly.  It is best to contact a plumber for any and all repair to a gas appliance.  Only the gas company can turn the gas back on to these appliances.
If you use the tips, you are ahead of the game when it comes to appliance installation and care. People often think of appliances as furniture, but they do fall into an entire category of their own.  Always buy with a company that ensures refund of damage during transport with their delivery service and one which offers warranty.