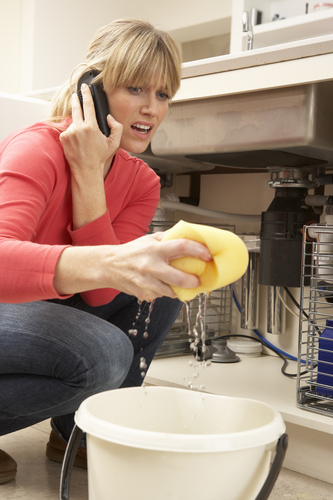 It never ceases to amaze us.  You have a house full of people and a plumbing incident happens.  Not all incidents involving a plumbing emergency can be prevented, however, you can be ready for some of them by keeping tools on-hand and taking preventative measure.  Here are our top 5 fixes and preventative measures.
1-A clogged toilet is the most common of the plumbing problems to arise.  A plunger is inexpensive, readily available at every hardware store, home supply store, and major full-home department store.  They range in price from $5.00-$25.00.  The rubber cup at the end can be flat at the edges or have a lip for stronger suction.  Make sure you buy one that fits the inside of your bowl snugly as this provides the best suction.  A simple surface clog usually releases with plunging, but a deeper, thicker clog may need a professional snaking.
2-If you are confronted with a plugged sink, tub or shower drain, you can try a liquid de-clogging product, but choose very carefully.  Find a product which is environmentally safe, chemical-free, and kind to pipes. These do not always work, but they are worth a try in a pinch.  A hair clog is most common, so a simple strainer in the tub drain helps as a preventative.  if it is persistent, it is probably too deep and too thick to release with just an enzyme treatment.
3-Another way to address a clog is a mini-snake.  A mini-snake can be purchased at a hardware store. Make sure you know the difference between a toilet snake and a sink snake as one is larger than the other and using one too large in a sink can cause damage.  In addition, you should not use a toilet snake in the sink as it is a health hazard from cross contamination. A mini snake may work for a clog close to the surface, but will not work for a deep clog.  Trying to force it far down the drain can cause more damage.  If it doesn't work quickly, stop attempting and contact a plumber.
4-The biggest emergency you can have is a broken main line pipe.   What you can do for a break in the lines bringing water into your home is turn off the main water valve.  This is the only way to stop the rushing water.  You will need to have this addressed by a profession as soon as possible. For a main sewer line break, there is no band-aid repair.  This one will require our services immediately.  Our emergency calls cost the same as our regular calls.
5-A major preventative is tree or shrubbery removal.  Tree roots can clog pipes and main lines.  They can also break and rupture pipes.  if you have root damage, it is best to remove the tree.  Any repairs made with the offending trees still in place are only temporary fixes. Usually people find out the hard way. If you have a bunch of roots blocking the line you will more than likely know if dirt or twigs come up to the surface of the toilet after you plunge.  At this point, stop plunging, and call us for some immediate relief of your clogged lines.  There is no perfect science to prevention, but taking some steps can in fact help.