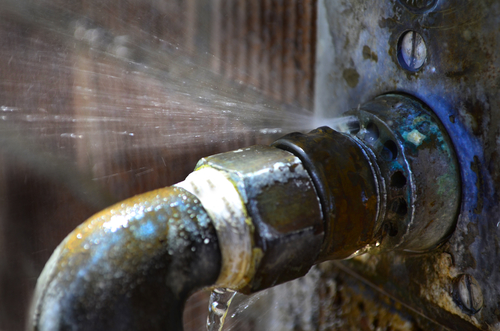 Leaks inside walls are unpleasant and worrisome.  They can add to your water bill, damage structures, and leave mold.  Leaks inside walls are one of those plumbing issues that should be addressed as soon as possible, which is plumber code for IMMEDIATELY.   Leaks like this are the last to be detected in homes.  They are usually quiet and have been leaking for a while before they are found.  Pipes are installed in walls all over the house, going to the kitchen, bathrooms, and to any other water source or exit for waste water running in your home.  Even the smallest of leaks in any of these areas can go so far as to damage the foundation of your home.
Why Keeping Old Pipes in Remodeled Homes is Not a Good Idea
Aging houses with old pipes are often the most likely candidate to be hit with leaks.  Although strong, galvanized pipes will always wear away, starting to rust and eventually disintegrate.   Some people remodel their old homes, but stop short of fixing the plumbing because, 'if it ain't broke, don't fix it,' comes in to play when money is being spent in large doses.  A pretty home is a welcome sight, however, if you leave the old plumbing, it is an unbalanced ecosystem.  When houses are being worked on, there is disruption to the plumbing.  An already old system of lines in walls are getting knocked and banged.  Even nailing things into walls will jar very old, crumbling pipes and send them further down the path to forcing your hand.  In addition to the cost of an emergency visit from a plumber, (other than Reckon of course, because Reckon doesn't charge extra for emergency calls,) your new walls and floors will be at risk.  If you are remodeling, do the plumbing at the same time.
How to Uncover a Leak in Your Walls
If you like your old house just the way it is, that works, but the plumbing probably does not, and it will start to rear its ugly head someday soon.  These are some of the things to look for in your old or newly renovated old house with remaining old plumbing lines:  Sweaty walls, pooling water on the floor, damp spots, warped wood floor, discolored or damp carpet, an unexplained musty smell, and mold.  Any one of these is the indicator that you have an issue within your walls that needs to be addressed. We are happy to come out and take a look for you.  We use state-of-the-art leak detection devices to minimize damage seeking the source.  Your time is valuable to us and we will find it as fast as we can and give you a description of the damage and what needs to be done to get new, working pipes in your walls.
If the leak is from new pipes installed by another plumber, it could mean they were installed improperly. The connections could be poor, the pipes to close to the wall itself, and/or a section of old could have been left if the plumber could not reach it or could have been left to save on time and increase profit margin.  Copper pipe is the strongest on the market and will usually fail only if it is installed incorrectly.  At Reckon, these are things that should not worry you one bit.  We are known for our thorough and skilled workmanship.  We would never leave an old section of pipe, even if it took us all day to get to the troublesome piece.  If we promise you new pipe in every inch of your house, that is exactly what you get from our company.
Call 877-473-2566 or send us a message for your free quote today.