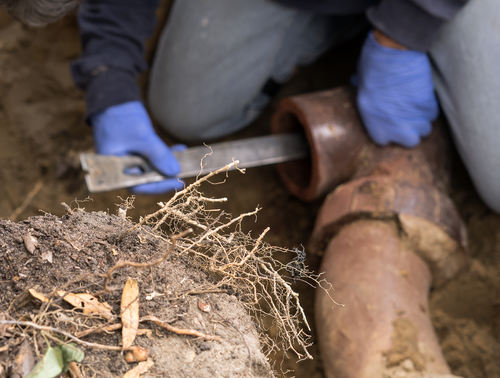 We all know that the most disgusting of the plumbing problems is a clogged main.  The panic sets in as the water rises in the toilet, shower, or tub.  You can take action to prevent and impede main obstructions and problems.  Everything about it is well, gross, so here are some tips to help keep the sewer main clear.
We suggest that you not plant trees in the path, on top of, nor in close proximity to your main.  With new pipe materials this is not as much of an issue, but in an old house, the main is ceramic.  Age, normal wear and tear, and the shaking from earthquakes make cracks and breakage inevitable.  Newer pipes are made of sturdier, more reliable plastic materials, but it is always better to keep areas around pipes free of roots.
The breaks that can happen in ceramic pipes make prime targets for creeping roots.  They can invade and cause more damage.  Toilet paper and anything else not small enough to pass through tangled roots will get caught.  The length of time it takes back up to the house is not predictable, but it will absolutely happen if things do not get a clear path to the sewer line.
If you have large trees you wish to keep, you should replace your old ceramic pipe with PVC.  If you are not prepared to do this in the immediate future, it is we advise that you install a clean-out at the front of your house.  A clean-out is a pipe leading up to the surface connecting to the main which allows easier access for a large snake to clear the main.  It avoids having to remove toilets and make mess in the home.
We also strongly recommend the following:  do not use bum wipes as they are thick and end up being making messy clogs.  Do not use toilet scrubbing brushes that use allegedly flushable scrubbers as they do not always dissolve rapidly enough to keep the line clear.  Do not use ultra thick toilet tissue.  This is painfully true in an older home.  Old pipes are struggling to stay intact and any extra pressures to the delicate and aging materials can cause a rupture.
We further suggest these items NEVER get flushed: facial tissue, make-up remover pads, cotton balls, paper towels, diapers, infant cleaning wipes, feminine hygiene products, nor condoms.  If you are willing, ready, and able to replace your sewer line, we are happy to do the work for you.  Like life, when it comes to plumbing, there is no time like the present.