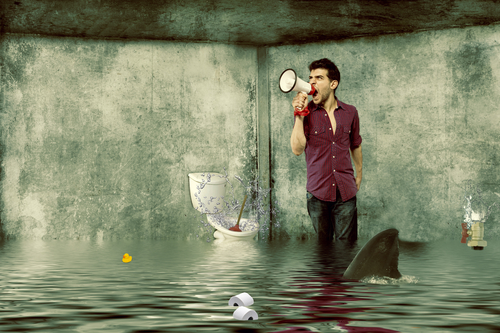 There are dozens of reasons to put off doing a plumbing repair.  You may be out of cash, or you do not have confidence in the plumber you used, or perhaps you want to study-up and take a crack at the repair yourself.  We all have a millions obligations for our time, and other places to spend hard earned money.  Be very aware that neglecting minor repairs means that you are running the  very real and serious risk of the problem becoming much bigger, far more complex, and more expensive to fix.
A few drops of water are not much to worry about, right?   Loud game show buzzer here because your affirmative answer is WRONG.  Delayed maintenance on a necessary plumbing repair will come back to haunt you and that is guaranteed.  For example, if you have a leak in a faucet or a plumbing line, you still have to pay for the water coming into your house, whether you actually use it or not.  Think about the increase that means for your water bill.  It can be as much as 10,000 gallons a year from one small, "minor," leak!
Leaking water will cause a variety of problems.  If a leak happens anywhere around the sink, toilet, or tub, the water will likely end up making mold.  You may even end up with rotting woodwork, floors, and interior wood posts. If those things get wet, you will have to rip out and replace the floors, wall joists, and expensive wainscoting.
In addition to money problems and missed work problems, plumbing can lead to the potential health problems.  Mold and mildew can cause respiratory problems.  The build-up of sludge in pipes can become noxious.  This can lead to a variety of health issues.   Other plumbing problems, such as , a leak around the toilet seal or a backed-up sewer line could mean that you are actually exposed to raw sewage inside your home.
If you think about all the things that can go wrong if you ignore the issue at hand, you can see clearly that seeking help is the best way to help your home and family get the plumbing back on track.  We are here to offer that help.