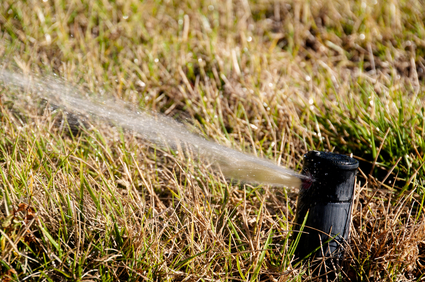 As the cooler days of winter are over, and the weather heating up, it's time to think about sprinkler system maintenance!  You're probably starting to water your grass again in preparation for the hot summer months.  If the grass starts to turn brown, it can sometimes be hard to get back to the lush, green color and soft texture.  Keeping yards watered with a reliable and water-efficient sprinkler system will save money and water resources.
Sprinkler systems are used often and can fall into ill-repair.  Valves, lines, washers, etc….can rust or start leaking.  This is not only a waste of precious water resources, but it can be a very costly experience. Your water bill will go up, possibly dramatically, and if your systems exceed allowed water allotment, a fine may be assessed to your property address.
Choosing The Right Material
In warm climates, PVC, (polyvinyl chloride,) can be used to make-up your entire system.  It is a more flexible material and can withstand freeze-thaw cycles which can occur during seasonal changes.  Keep in mind, local plumbing codes are different in each city, so consult a professional plumber for the rules and regulations set forth by your local water authority.
Your system will need a backflow preventer so that the sprinkler lines will not contaminate your home's drinkable water supply.  There are a couple of types of sprinkler system backflow preventers.  The most common is a surface-level type which must be installed above the highest spot in the yard.  There is also the reduced-pressure style which is installed below the graded level.  The prices vary, but the surface-level is the least expensive.
Be sure to have a separate water turn-off on your sprinkler system.  If you do have a leak, you can turn off the water to the sprinklers without having to turn off to the entire house.  It might cost just a bit more; however, it is invaluable in the event the system must be turned off because of leak or repair.  The water will continue to flow into your home.
If you run your sprinkler system on a timer, make sure it is working properly and goes off at an appropriate time, i.e., not during peak daytime hours.  Make sure the main valve outside, which controls the actual sprinklers, does not have any leaks.  Even if the noise of running water is not being heard, write down on your calendar to check once every couple of weeks to make sure you do not see evidence of leaking water.
If you see water leaking from any part of the control valve, turn off the water to the system and call your plumber.  Similarly, if you see very drenched spots in your grass, this may indicate a leaking sprinkler-head.  The water should be turned off in this instance, as well.  Last but not least, the infamous broken sprinkler-head must be addressed; this one cannot be missed as it can sometimes reach several feet into the air!
The broken sprinkler-head may not necessarily require turning off the sprinkler water valve.  If you are on a timer, the zone which manages that head can be shut-off at the control box.  If the system is manual, that valve can be turned off until the head can be replaced.
Water run-off, excess water usage, and over-watering can pose a financial problem, so it is best to have a plumber assess the sprinkler system issues and have them repaired in a timely fashion.  Grass is the carpet of the outside!  It welcomes people to your home and a nice lawn is a lovely welcome home to your family and your guests, so keep it green and stay green!
*Remember, your local water department may have regulations for watering times and watering duration, so make sure you follow the guidelines set forth by your water supplier and the city in which you live.