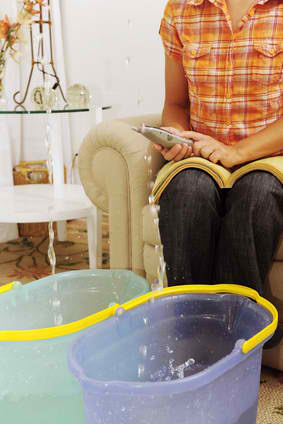 Water damage from a plumbing leak poses many hazards to your home and your family.  Aside from the disruption to your incoming water supply and your out-going waste water, there are significant risks to the structure of your home and to the physical health of your family.
 
When a pipe ruptures, the sound is unmistakable.   The water rushes and in some cases, the house shakes.  It can be from any number of reasons, but the result is the same, you have a broken water main.   Your pipes might be old and worn, they may be filled with rust, or there may be an excess in pressure which creates a rush of water which can make the pipe break.   Pipes within the walls can also leak.  Although the amount of water that would leak is less so than a large main, it can still cause problems within the structure.
 
The other perils of large water leaks are the water heater and the sewer main which takes waste from your house.  The water heater, when worn, can flood the area quickly and without warning.  It makes a mess.  Ah, the sewer main!  When it backs-up it's a real pain-in-the-neck, but when the pipe ruptures, it's more than a pain-in-the-neck.  
When To Call A Plumber

 
First and foremost, the leak or rupture MUST be addressed.  Getting a plumber in to fix the offending appliance or repair to the pipes needs to be done immediately.  After the repairs, the clean-up must follow.  The situation will determine what should be done to clear water, dry, and treat for contamination.  
 
The danger in not doing so can result in a compromised foundation, damaged 2x4s in walls, molded wood and drywall, growth of foliage under your home, cracked and uneven concrete, and damaged flooring, (to name just a few very expensive problems.)
 
Of course, the first line of defense is doing regular checks on your plumbing as you would your car.  Next, fix things the moment you see trouble.  If disaster still strikes, fix, then clean.  If the job is bigger than you, there are companies which do only flood repair.  They can clear the water, dry or replace the wet wood, and if mold has started to appear, they will treat or replace, based the damage.  
 
In addition to the extensive damage to your structure, water damage can affect your health.  If you have young children and older family members living with you, they can be particularly adversely affected.  If someone has asthma or a breathing disorder, or some other health issue, it can be dangerous to leave water damage untreated.