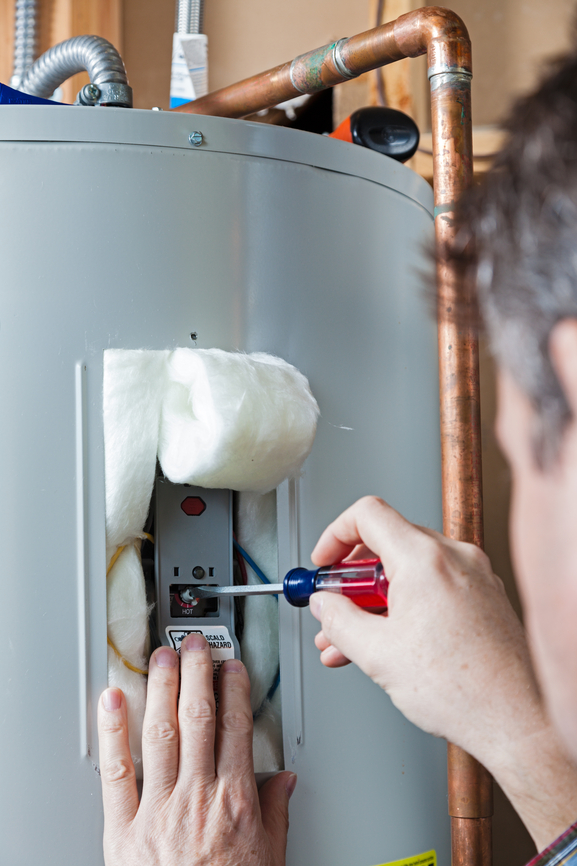 One of the greatest inventions of modern time is the water heater.  The days of filling buckets from the well and heating the water over a fire, topping off the tub one bucket at a time, especially on a cold winter's night…wait, that was an episode of LITTLE HOUSE ON THE PRAIRIE, but you get the idea.
Today, most water heaters are installed in garages.  It is a good location, however, this means they are often the forgotten plumbing appliance as they are out of sight.  In some homes, they are kept in the house, but in some cities and states this is not permitted.  (Call your local water/electric provider to find out the regulations for your area to ensure you are up to code as this can affect your home owner's insurance policy and most importantly, the safety of your home for your family.)
If you have ever come home to the shock of water all over the floor of your garage, or worse, a part of house, you know the inconvenience and expense of a broken water heater.  Keeping up to date on recalls, date last services, and following the manufacturer instructions to the letter will help keep your water heater in good working order, and if something is wrong you have the opportunity to fix it before disaster strikes.
Your water heater should have a label with a manufacture date and a serial number.  This will help if you need to call the manufacturer.  This is also essential for your plumber to identify your model when repair is needed.  If it does not, you will need a professional plumber's help to make a proper model identification.
Calling A Plumber For Assistance
It is possible service one's own water heater, but it is not recommended.  It is a large appliance, attached to a gas line, and very expensive if something goes wrong.  Your professional plumber can do the work as it should be done and it is less expensive than a mishap!
If you decide to do it on your own, consult your owner's manual or contact the manufacturer for precise instructions. Please, do not attempt to figure it out as you go – this is an accident waiting to happen.  Also, keep in mind, most tank water heaters are heated by being hooked up to your home's gas main line.  PLEASE, DO NOT ATTEMPT ANY WORK ON YOUR WATER HEATER WITHOUT FIRST CONTACTING YOUR LOCAL GAS COMPANY.  There are many risks attached to a broken or improperly disabled gas line.
If you decide to call your plumber, please know it is a semi-short visit and it can be done while you do things that are much more fun!  Also, please note, none of above applies to a tankless water heater.  Consult your professional plumber with regard to your tankless water heater, as well.