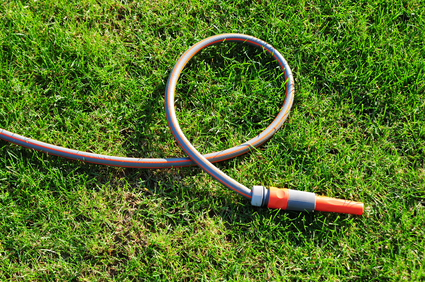 Ah, the olden days – when everything wasn't labeled potentially harmful.  In some cases the worry has been dispelled, in others, the facts have remained accurate.  Some once safe, have been now proven to be a danger.
One thing that was once a non-issue has had its dangers brought to the attention of parents everywhere.  That item is the household hose.  Most people of the older generations has had a sip from a hose hooked up in the backyard.  That is now a big no-no.
Choosing The Right Water Hose
Nearly every hose manufactured today is labeled with a warning which reads, "NOT FOR DRINKING."  This warning should be heeded.
Most of the hoses made today are made from polyvinyl chloride, also known as PVC.  The common garden hose sits in the sun, has rushing water running through it, is bent in odd ways, and suffers many other indignities throughout the year, but gets a good work-out during the summer.
PVC is a sturdy material that can withstand all that wear-and-tear.  Hoses can cost as little as $10.00 and, for a thicker more commercial thickness, can cost up to $60.00.  They come in lengths of 25 feet to 100 feet.  Any size larger would be commercial grade and cost a fair amount more than a standard size hose.
Standard hoses are good for all your summer needs, except drinking.  The good news is, some makers of hoses are creating them made from environmentally friendly materials and they can be used for drinking.
Hoses which are safe to use for drinking water are made with FDA-grade drinking-water-safe polyurethane.  Also, the fittings are made from material safe for human contact.  They cost a bit more, but if it meets your needs, it is worth the extra few dollars.
The benefit to using a drinking-water safe hose is that it means cleaner, non-chemical., water for your kiddie pools, vegetable and fruit gardens, water gun fights, hosing yourself off in the heat, and letting your kids go wild without worrying about the run-off of toxic chemicals from a standard hose.  A standard hose will produce water with that particular smell that just doesn't smell quite right.
If you are willing to make the change, it will last just as long, perhaps longer, and can be used, safely, for all your outdoor water needs.  Search by typing in "FDA and NSF approved food= safe water hoses."  Every company which sells this type of hose will be at your fingertips for easy purchase.  For a few extra dollars and a little extra research you can upgrade to an all-purpose hose.