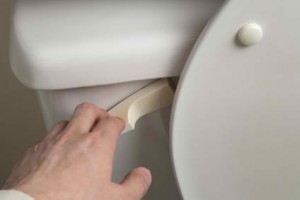 Is your toilet flushing slowly? Are you having to hold down the valve longer than normal to get the toilet to flush?  Or, are you having to lift the lid to manually flush the toilet?  You may need a new vessel.
Toilets come in all shapes and sizes and in all prices brackets.  These are time when homeowners don't want to spend a lot of money and Reckon is here to help.  You want an efficient, low-flow, water-saving toilet and you don't want it to cost a lot of money….making your toilet work properly and keeping your savings account full is our goal.
Basics Of Toilet
Toilets are all basically installed the same way, but they look very different.  Let's start with the most basic feature and that would be the flushing mechanism.  You can get a push down or in button, a lever handle, or an actual flush chain for a high wall mount tank.  You should keep the look in style with the rest of your home.
Toilet vessels do come in different sizes. Either a standard sized toilet can be purchased, or any one of the elongated styles which are also available.  It depends on your preference and the size of the space.  They take up the same amount of space from side to side, but the elongated style takes up more space front to back. For the most basic toilet, the cost difference between these two is nominal.
Toilets always come with a seat and lid, but for added style, you can inexpensively and quickly get an updated look.  Bead-board works for Cape Cod look, and if you want some quirkiness, they sell toilet seats with coins in them!  If you want comfort, they sell cushioned toilet seats.  You can get wood or plastic.  In the plastic version, an anti-microbial version is available.
Choosing your mount is also dependent upon what you wish to spend and the amount of space. A wall-mount toilet is the cheaper option, but you can buy a one piece toilet.  They are more costly, but can add drama to a bathroom.  If you are just looking for function, a wall mount is a great option.  We at Reckon are happy to help you find what fits best for you and your family. Your home is your castle and the toilet is your throne!