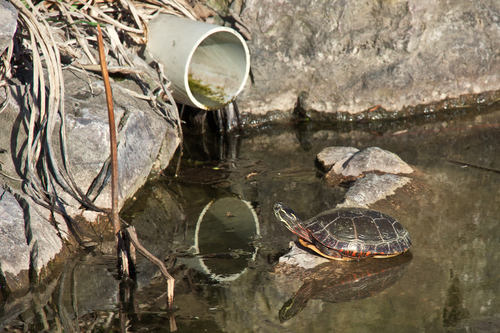 The heat is on in Southern California during the Summer months.  This means that animals will be seeking relief from the intense heat. Your home and property is the place to be for dehydrated, hot pests. It is a serious problem as animals can cause extreme damage to your property.  It is a top complaint of homeowners during the hotter months.  Homeowners are often concerned with attics and basements when it comes to animals and potential  infestations, but plumbing pipes are easy entryways into your home and provide pests with hiding places.  It is important to your family's safety and the value of your home to prepare for potential problems.  Taking steps to guard your plumbing pipes is the most cost effective and easiest way to begin.  Plugging openings around pipes so that there is a barrier between your home and wildlife is step 1.
At the back of your toilet there a pipe called 'stink' pipe.  It runs through the walls of your house so that the gases produced by human waste can be vented from the room.  The stink pipe allows such gases to dissipate through a plumbing pipe on the roof of your house.  This prevents the build-up of odor in the living space.
In order to protect this pipe, have the plumber install a sturdy mesh cap to keep animals from crawling in and causing trouble.  Even larger animals can squeeze into very small spaces, so do not assume the size of the pipe will prevent entry.  If there is a will, there is a way; especially when an animal is trying to keep warm, give birth, or escape a larger predator.  If you have multiple toilets, you will probably have multiple vents, so be sure to cap each one.
The pipes that bring water into your home more than likely have space around them which can allow a small animal entry into your home.  Do not use cement nor a strong, non-flexible material to close the gaps.  If you do, you will add work time and cost to any repairs that need to be made by the plumber.  Heavy scrubbing wire works well in these spots.  It serves two purposes;  it blocks entry and is very painful for animals to try to chew through, so they will get discouraged or injured.
Foam spray filler also works well in these spots. It fills the gaps, but does not hinder an easy repair access by the plumber.  If it has to be removed, a simple spray of more foam fills the gaps.  Now, BE VERY CAREFUL TO FOLLOW THE INSTRUCTIONS PRECISELY when using the foam because it gets much bigger when it puffs up!  That can get messy.  As with any chemical, read all warnings and directions, and use any and all protective gear as recommended by the manufacturer.
This foam material can be used for pipes under sinks to keep animals out of those areas, as well.  Again, use it very carefully.  People have sprayed, walked away, and come back to a….well, quadruple the size foam filled areas.   DO NOT use the foam near or around cracked pipes.  It will fill the pipe itself and block the entry of water and damage the pipe further.  That would require total pipe replacement for the section affected.
Also, even more dangerous, it can contaminate the water.  Have any all repairs to cracked or broken pipes made before you use the foam to fill gaps.  Check around your house for any of the above-mentioned and other openings around plumbing pipes.  Wire mesh, wire covers, and foam fillers are the safest, most cost effective, least detrimental to plumbing repairs. If you want a professional job, contact the plumber.  Making the lives of customers easier and more peaceful is the goal of a good plumber.