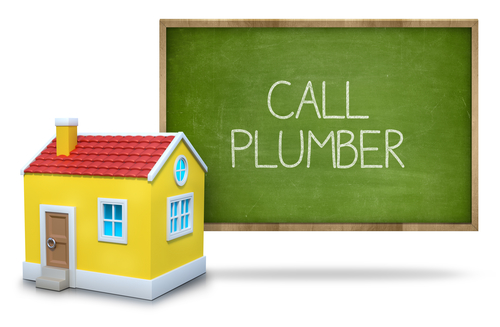 It is a bad time and, BAM, a plumbing emergency!  You follow all the rules, but not all incidents involving a plumbing emergency can be prevented, but you can be ready for some of them by keeping tools on-hand.  The first weapon and the homeowner's best friend is the plunger.  A plunger is inexpensive, readily available at every hardware store, home supply store, and even the dollar priced stores.  They range in price from $5.00-$25.00.  The rubber cup at the end can be flat at the edges or have a lip for stronger suction.  It is best to determine which fits in your toilet before you purchase one as you want the right fit in the event of a clog.  If it is just a small amount of paper, it is usually easy to push out into the main sewer line.  Larger paper clogs may require more force, but can usually be loosened.
If you have a bunch of roots blocking the line you will more than likely know if dirt or twigs come up to the surface of the toilet after you plunge.  At this point, stop plunging, and call us IMMEDIATELY, please.  #877-I-RECKON /877-473-2566.   If you are confronted with a plugged sink, tub or shower drain, a snake down the line will clear it all the way to the street if it is done properly.  Plungers are not meant for these types of drains and will not work.
Another way to address this issue is with a mini-snake.  A mini-snake can be purchased at a hardware store.  It may work for a clog close to the surface, but will not work for a deep clog.  Trying to force it far down the drain can cause more damage.  If it does not work quickly, stop attempting and contact a plumber.  The biggest emergency you can have is a broken main.  Whether it is the pipe that brings the water into the home or the *sewer main which takes waste water out to the street, a major rupture is not something you can handle on your own.  If you think a waste leak is coming from the street, call your municipality, and if they seem unable to help, call us.  We will be able to tell you if it is from the city lines or on your property.   For a break in the line that delivers the water into your home you can turn off the main water valve.  This will stop the rushing water.  You will need to have this addressed by a profession as soon as possible.  If you need us, we are here 24/7, and remember, at no extra charge for an emergency call! 
(*Sewer ruptures pose hazards.  This can not be handled by any means other than calling a  plumber immediately.
Running waste will contaminate your lawn, cause a potential health hazard, and will be dangerous to your children and pets.  Please, address this type of situation professionally, and quickly.)