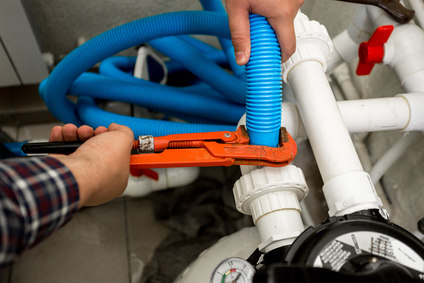 Plumbing lines are the one of the most complex systems in a home.  It runs under, along, and up.  Caring for this system should be a type priority for every homeowner.  If you let something go, you will pay later.  A quick fix is just that and does not always last.  In addition, a plumbing problem can damage other parts of the home.  Walls, floors, electronics, fabrics, and even structural damages can be as a result of a plumbing event.
You can not make mistakes with plumbing because the end result is costly.  Some of the biggest mistakes are connections between new copper and old galvanized without proper fixtures, the incorrect size lines, water heaters not being properly strapped, weak grip in a u-joint, stopper valves installed upside-down, hot and cold lines crossed, and plumbing sewer lines going up hill.  Any one of these can wreak havoc.  If you move into an already constructed home, there is really no way to tell every single thing that is going on because you can not truly see each inch of pipe.  Your inspector will see most major things, but not all can be diagnosed.  Make sure your inspector is licensed and comes with recommendations.
If you pay close attention, you will get hints.  That loud almost shrill sound when you turn water on and off can mean any number of things and should never be ignored.  A gurgling drain or bubbling toilet are standard warnings for a blocked main line.  A slow draining sink, tub, or shower mean something in that drain is plugged up.  Some are small fixes and some are little bigger.   Warped floors or the smell of dampness are also red flags.  Those are more worrisome and should be addressed immediately.  The fear of the cost is usually what prohibits people from calling, but the longer things go, the worse they become.   If you are short on cash, there are companies that finance specifically for home repairs and improvements.  A plumbing repair is an update because a good repair or replacement will last and come with a warranty.