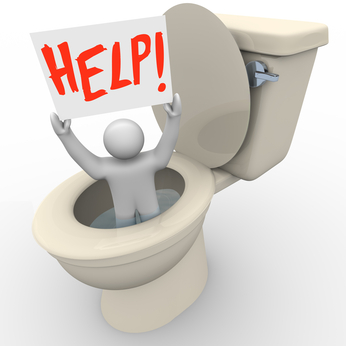 It has happened to all of us; the plumbing disaster on Sunday, a major holiday, and even in the middle of the night.  What actually constitutes a true plumbing emergency?
It is no secret that a plumbing emergency can be very costly.  An honest plumber is not looking to fleece you and make every off-hours issue an emergency.
If you have a pipe that bursts and the water is rushing out, turn off the main to your house immediately.  If you do not have running water to your house, washing and using the restroom are an immediate concern.  You can use bottled water to brush your teeth, take an old-fashioned sink bath, and use antibacterial cleansing liquid to wash your hands.
Rescuing The Toilet
If you must use the toilet, you can use a bottle or paper cup to go number one.  If someone has to go number two, the best remedy is the same as you would do in an earthquake, (as most Californians know,) place  a plastic trash bag around the rim of the toilet and close the lid.  The rest is pretty much self-explanatory.
If your toilet begins to leak around the base, you can turn off the running water to the toilet.  Each toilet has a knob at the back, below the tank.  If the actual tank itself is leaking, put a bucket under the actual tank as it is already full and will continue to drain until it is completely empty.
If the pipes under the sinks, (the ones which carry the running water into your house,) begin to leak, turn off the water to the sink at the valve.  If the pipes are full of water, place a bucket under the area that is leaking until they are empty.
If your tub and shower leak, that will most likely occur under the house and more than likely can not be detected unless you climb under the house.   For a leak in the wall, and obvious signs of mold, you will have to turn off the main to the house to prevent further damage.
For the plugged toilet, of course, first try the plunger.  If that does not work, do not try to force it down. Turn off the toilet and if you can wait, call a plumber in the morning or during normal business hours.  Some people are not even remotely willing to live even a couple of hours with a plugged toilet, so for those people, make the call!
Now, in the case of a ruptured line out to the street or a broken pipe in or outside of the house, you will have to make an urgent call.  Broken pipes which continue to leak after you have disabled the water to the house can cause much damage.  A leaking sewer pipe is a bio-hazard and must be addressed quickly.  Make the call to your trusted plumber in the event of a true emergency.