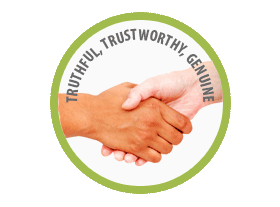 Honest Plumber, the two most special words in home repair! We read and hear terrible stories on the news and on home improvement shows. However, just like in friendships and other relationships, there are all kinds of people.
Truthful, Trustworthy and Genuine
We at Reckon & Reckon Plumbing, Inc. pride ourselves on our integrity and customer service. We understand the issues that are important to you. We've compiled some points for you to consider to protect you and your home, and help you find an honest plumber.
1. If you are buying a home, have it inspected by a licensed home inspector. He will be able to see plumbing problems that may need to be addressed BEFORE you purchase and move into your home. Also, obtain the plans for your home and any add-ons or improvements so you know where your pipes run and what kind you have. If you already own your home, it is not too late to obtain the plans.
2. If you are a renter, make sure the repair obligations for both renter and landlord are clearly set for in your lease. If you need to call a plumber when your landlord is unavailable, make sure you keep all receipts. Know your rights as a consumer so that you are prepared in the event of a dispute with regard to any repairs made in an emergency situation. Each city will have a Renter's Rights organization.
3. Be a cautious buyer. Ask friends, and check consumer websites for ratings and reviews. Go with your gut – if it does not feel right or seems too good to be true, it is probably not a right fit for you and may be too good to be true. If you wish, spend the money to join a site which provides you with list and proven reviews.
4. Ask to see the plumber's license if the number is not listed on the business card he gives you. You are entitled also to make sure the plumber has insurance. If he is unwilling to give you the aforementioned information and reluctant to provide references, push the stop button!
5. It is very important that you ask a lot of questions. Does the person sound like he knows what he is talking about? If you do not know what he is talking about, look it up when he leaves. For example, if he says he has to run a snake, do not just assume he is correct. Ask him WHY he has to run the snake and ask him PRECISELY what it will cost. If you are completely bewildered as to what he is talking about, turn to the internet or someone you know who has home repair knowledge.
6. Thieves come in all professions. Never leave a person unknown to you in your home unattended. A nice person, who rings all the bells and hits all the marks, makes you feel at ease, can still be a thief. It does not mean you are paranoid nor does it mean you are thinking the worst of people. Keep an eye on your children, pets, and hide valuables. It is always wise to be vigilant with an unknown worker in your home and around your family and precious items.
7. After you hire a plumber, make sure he is showing up on time. Is he arriving alert and prepared for work? If he is charging you by the hour, do not let him charge to run errands for equipment or items he should already have in his possession. A professional plumber is always prepared and takes responsibility for his equipment or lack thereof.
8. Watch what he is doing. You are entitled to see every aspect of the work being performed. It is your home and your money.
Plumbing is like a visit to the dentist and paying taxes – it just HAS to be done. It does not have to be a terrible experience if you do your research, chose a good match for your needs, and build a trust-based relationship with a plumbing professional who has earned your trust.
Remember, Reckon & Reckon Plumbing, Inc. is here for you. We look forward to helping you with your next plumbing project!