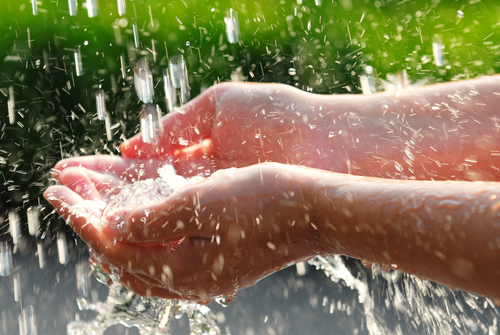 The heat seems to creep up on Californians very quickly.  And here it is again.  The recent weather systems have done little to change the water situation.  The reasons includes a couple of facts:  Rain storms produced little and that water produced by rain is not what makes the dent in reserves; snow is king when it comes to water in California and snow-fall this year was not enough to change things significantly.  All of this means another tough Spring and Summer for California.  In an effort to help keep the water reserves strong and our family of clients free of water use fines, we have a list of 25 tops ways to conserve water.
1-Group plants with like water needs together.  This avoids over-watering of plants that do not need as much to survive.
2-Use only plants native to your region.  They have been assimilating for centuries to the climate and water needs are minimal.
3-Use a layer of organic mulch to reduce weeds.  Weeds compete with plants for water.
4-Use an empty tuna can to measure irrigation output.  3/4 of an inch to 1 inch is enough to douse each time you water.
5-Reduce the amount of lawn by planting shrubs and ground cover.
6-More plants die from over-watering than they do from under-watering.  Know your plant biology.
7-Keeping the trash cans clear is appealing, but do not flush your tissues.  Tissues are for tossing.
8-Stop using fountains, waterfalls, and sprayers in your pool.  Aeration increases evaporation.
9-If your pet needs a bath, do it out on the lawn and let the lawn reap the benefits of the water you used for the bath.
10-If the kids want a water gun, water balloon, or general water merriment, let them do it on the lawn!  The grass appreciates the love.
11-Leave your lawn's clippings on the grass.  This cools the lawn and holds water.
12-Get in the habit of sweeping debris rather than washing it away.  It takes longer, but on the plus side, it is a great for your arms.
13-Do not forget to adjust the water level in the washing machine each time you do a load.
14-Use ice cubes for hanging plants.  This reduce overflow and gives the plant a nice cooling.
15-Do not use running water to defrost foods. Defrost them in the refrigerator.
16-If you have an evaporation cooler, direct the water to your landscape.
17-When cleaning your fish tank,give the nutrient-rich water to your non-edible plants.
18-Insulate your water pipes to warm the water faster.  This reduces the amount of time you have to let it run to get some hot water.
19-If you can, install a dual flush toilet.  Number one uses much less water than number two.
20-One drip every second adds up to 5 gallons a day!  Take care of that drip immediately.
21-Plug the sink when you shave rather than letting the water run.  It saves 300 gallons of water per month!
22-Do not feel guilty – report errant sprinklers and water wasters.
23-Call your local water authority to report a leaking fire hydrant.  Trust us, they want to know.
24-Consider turning your fountain into a planter. It will be even prettier.
25-Always cook with the proper size pan or pot as using one too big uses far more water.
These are unique tips perhaps not hit on before in other blogs and articles.  Water needs are great.  They are one of things absolutely necessary to sustain life.  Nature, animals, and humans simply can not survive without water.  We all must do what we can and we are certain by employing some of these ideas you will notice a lower bill and an all-around good feeling!