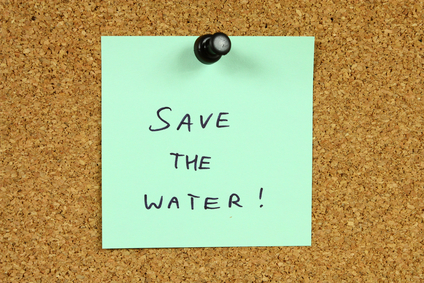 This blog site has posted a few pieces on water conservation, but the previous posts were suggestions – as of now, water-saving is mandatory.  April 1, 2015, Governor Jerry Brown issued a mandatory water conservation demand to the citizens of the Golden State.  This is the first time that water restrictions are imposed, rather than requested, and the Governor means business as some experts estimate California has between 3-4 years of water left; maybe even less.
Reducing Water Consumption
Residents, businesses, farms, cities and towns alike, must reduce water consumption by 25%.  We had some rain and could immediately see the green in the hills, and the dry brush aside the freeway went from dead to alive.  Just a few weeks of heat, and we are fast on our way back to dead or dying grass and brush.  These conditions pose a tremendous fire hazard.  It is critical that fire fighters have water to use to put out fires and with drought-ravaged nature all around us, even in heavily inhabited areas, a fire is not an IF, it is a WHEN.  According to Daniel Berlant of Cal Fire, California's Department of Forestry and Fire Protection, via an interview by Sacha Pfiffer in a article posted by Here & Now, there has been a 100% increase since January 1st of this year, because conditions are so dry.
No one likes to look outside and see dead lawn.  It is ugly in appearance and makes a house look bad and can even reduce property value.  It is upsetting and annoying.  Unfortunately, these are the times in which we live. If people had watched their water consumption more carefully, we could have perhaps extended our reserves by a several years, but it still would be a very critical situation.  We must all take shorter showers, fill sinks to wash items rather than letting the water run, water lawns less, wash cars at locations which use recycled water, wash larger loads on shorter cycles, etc… For more tips, please visit: (keeping in mind these are now mandatory,) Water Conservation Tips
The DWP is also currently offering an amazing lawn removal rebate.  If you remove your grass and replace it with a drought resistant lawn or a synthetic lawn, you are eligible to receive compensation for your expenditures. There are also appliance rebates for washers and pool pump rebates.  For a complete list of rebates offered by the DWP, please visit their page.  You can also investigate low-volume irrigation which results in slower water delivery, hence much water will be saved.  California friendly planting is essential to saving our state.  This site provided by the DWP is a great place to start:  https://www.ladwp.com/ladwp/faces/ladwp/aboutus/a-water/a-w-conservation/a-w-c-landscap?_    It may seem like these conditions are just a repeat of the past.  Nothing could be less accurate.  We are at an extreme level of crisis here in California and everyone will suffer the loss of water for actual life sustaining purposes.  Help save California and start extreme water-saving measures.
Sources:
http://news.yahoo.com/california-s-water-crisis-drought-katie-couric-explains-182006167.html
http://hereandnow.wbur.org/2014/05/16/california-wildfires-drought