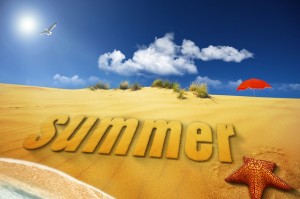 Pool water saving and sprinkler maintenance have been covered in the past two blog entries, but there are other issues which need to be addressed this time of year; water heater temperature, increased toilet usage, and more loads of laundry.
During the hottest months of the year, a water-heater does not need to work as hard as it does when the weather is cold.  Turning down your water-heater for the hotter seasons will save water and energy.  It seems a simple change, but lowering the temperature on the dial will make a difference in your water and energy bills.  If you have any questions about how to properly adjust the temperature on your water-heater, contact a professional plumber for assistance.
Oh, the joy of having the kids home for summer!  Having the kids around the house when they are out of school is a lot of fun.  They bring energy and laughter and happiness to your home each day.  They also bring a lot of extra toilet use to your home.  Toilets get more of a work-out during summer than they do any other time of year.  There is a lot of flushing because small children use the toilet a lot and sometimes, they flush just to flush!
Make sure you have a plunger nearby.  Also, keep anything that looks even remotely amusing to watch being flushed out of reach of little hands. (i.e. cotton balls, fun looking soap, those wash clothes that come in a small square and open up into full-size wash cloth, etc…)
Saving Water
Teach your children the proper amount of toilet tissue to use.  If you have very young children, install a toilet lock which prevents them from being able to open the toilet lid without adult as assistance.
If disaster strikes, try the above-listed plunger.  If that fails, you can try a toilet snake.  Follow the directions precisely so you do not damage your plumbing.  If those fail, contact a professional plumber.   You can believe they have heard it all.
Summer comes with some serious dirt and grime, too.  Washing machines get the same kind of over-time work-out your toilets get when the kids are home all day this time of year.  The kids are going to camp, going to the beach, eating ice cream, using sunscreen, and playing from morning until night.  All that means many, many more loads of laundry per week.
To minimize the amount of times you have to wash or the duration of the cycle you use, follow some easy steps listed here:  Use a stain treatment immediately, use a good cold/cool temperature detergent so you do not have to use hot water, and keep the trap clear.
All these measures are small steps in cooling your bills this summer and keeping your essential plumbing fixtures and appliances in working order.  Remember, your professional plumber is just a phone call away if you need assistance with any of the above plumbing issues.