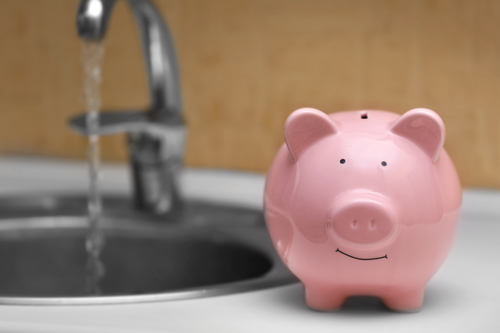 The California drought has ended!  This is great news for residents, businesses, and our reserves.  This does not mean we can become careless and mindless when it comes to the good behavior we all established during the dry years.  According the EPA, (Environmental Protection Agency,) the average American family uses 400 gallons of water per day.  That is a substantial amount of water.  A considerable amount of that water could be counted as wasted.  Here are 15 great ways to make easy changes that will not feel like you are depriving yourself of water, but will translate to ways to save money and water, and keep California happy and bright and water wise.
1-When you are heating up the shower, place a bucket underneath the stream to collect the water coming out as it gets warm.    At 5 gallons per minute, this is a good amount of water being wasted.  You can use this water for plants.
2-Buy a sink Aerator for less than $10.00 and you will be saving water without a difference in flow.  A properly, and very easily, installed Aerator reduces the amount of water used by 50%!
3-Toilets are very necessary, but can be a real pain.  They have to be cleaned all the time, they get clogged all the time, and they use a lot of water.  A low flow toilet can not clean itself nor can it guarantee a clog free policy, but it can save you a lot of water.  If you have not made the switch, do so now.
4-Showers are the only peace and quiet for some people.  A nice long shower is a glorious thing, but the amount of water you use during a 20 minute shower could sustain a small village.  Use a shower timer so you know when you should stop.
5-A soaker hose is a terrific invention.  It helps reduce water runoff by 50%.  You can buy one with a timer, so in addition to directing the water more efficiently, you can set the time to prevent overflow.
6-Rain water barrels are as easy as it gets.  You attach it to a down spout which easily attaches to your house. Rain, one of the greatest gifts from the elements, can be used to water your lawn and for any other manner of water uses you need.  You can create your own by buying a food grade barrel.  Make sure you have a secure lid as a full barrel is a serious drowning danger for small children.  
7-A rainfall shut off device can save in water and money.  Water and money are both necessary, so this one is a winner.  The gauge senses moisture in the soil and will prevent the sprinklers from running as long as a certain level of moisture is present.  These devices cost less than $100.00 and can even be as inexpensive as $25.00 for use in a small garden area.
8-Hand washing clothes is a great way to save water.  Fill the sink with just a drop of detergent and use it for delicate items and socks.  You can use the same soapy water a few times before you empty the sink.
9-When you plant, choose and group plants based on water consumption.  Plants which need little water can be just as vibrant and as pretty as water guzzlers.
10-When that time of day comes to change your pet's water from his bowl, do not throw it down the drain.  Toss it in the non-edibles in your yard.  When it comes to water, a little bit goes a long way.
11-Save your pasta or veggie water for use in the plants.  This water is harmless and means less water from the faucet.  After it cools, put it in a bottle with a spout and you have some useful recycled water.
13-Get in the habit of using a broom to sweep the porch, driveway, patio, and leaves from gutters.  We all tend to run for the hose, but it really just makes more mess and we then have to sweep anyway.
14-If it is time to make a change and get new toilets, install a 6 liter per flush ULV, (ultra-low volume,) toilet.  This model cuts indoor water use by 30%.   This is big water savings.
15-A gray water divert-er is a wonderful unit.  It recycles water from laundry and showering by sending that water into a storage tank.  The water in that tank can be used to the flush the toilet or water a NON-edible garden.  You just have to be sure to use products free from harmful chemicals.  No bleach, no soap with micro-beads, no stain-lifting agents, and usage only environmentally friendly body and laundry care.
Simple and easy steps will keep California in great water shape.  We were gifted a great winter, but the next five could be dry, so staying on top of the situation is a safe plan.  Rationing is not fun, but dry lake beds, starving wildlife, and the inability to combat wildfires because of low reserves are far more serious than turning the water off when you brush!  Keep up the good work, Californians