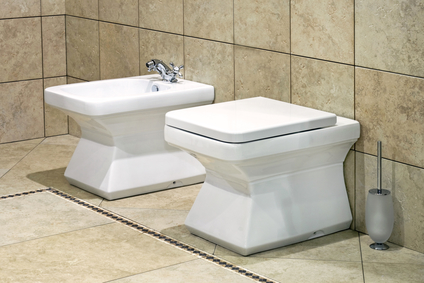 Toilets are an absolute necessity in every home.  There are no ifs, ands, or butts, (pardon the pun,) about it, really.  While having a toilet in each home in the United States is an essential, in Europe, Asia, and many other nations, having a bidet is an essential.
It may seem like luxury to Americans, but many people in the U.S. are now adopting the use of the bidet.  Bidet is a French word meaning 'basin.'  The fixture itself is the size and shape of a toilet, but performs a different function.
Types of Bidet Toilet
A standard bidet is equipped with a water jet which cleans the areas of your body which would rest over your standard toilet.  Unlike a standard toilet, it is hooked up to hot water so that the temperature can be regulated.  It has to be mounted right near a regular toilet for easy access.  It ensures a much cleaner restroom experience and reduces the amount of toilet tissue being used.
Bidets come in two styles: The most traditional and common is a porcelain fixture, which is without a lid.  The newest and most modern looking option is the toilet and bidet combination.  It functions and looks like a toilet, but has seat warmers, the cleaning aspects of a bidet, and in some cases, a dryer.  It is a very expensive option, and requires electrical access, but suits all needs in one piece.
Another choice available, which is common for those who do not wish to spend a lot of money, or simply cannot afford a traditional bidet, is to have your plumber attach a discreet cleaning hose to the back of your toilet.  This is the cheapest in cost and easiest to install.  It would upgrade a standard toilet to bidet status.
There are also attachable toilet seats which can be hooked up to the water and have the washing jets under your existing lid.  It is a very cheap option and is used very often as a alternative to costly plumbing changes.  This change does not require the assistance of a licensed plumber, but certainly, if you run into trouble, a plumber is a helpful resource.
Purchasing a bidet toilet is a wise investment for any home as it is very common in luxury homes and for some people, well, they will absolutely not live without one. If you plan never to move, it is a refreshing change to your bathroom.  Any one of the above options can achieve the changes you wish if you decide to upgrade to a bidet.