Welcome!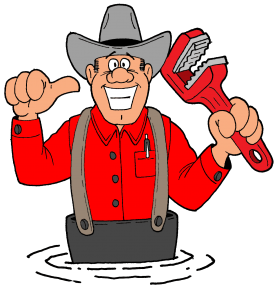 Reckon and Reckon Plumbing has been serving Southern California neighborhoods for the past four generations. We specialize in all areas of residential and commercial service and repair, including home owners, condominiums, home owners associations, restaurants and commercial establishments.
Reckon and Reckon is happy to offer prompt, courteous and reliable service by qualified technicians at affordable prices.
Our top quality service satisfies our customers. 
R.B. – Studio City

They replaced a water heater. Most recently they replaced the pressure regulator. The price listed was for the pressure regulator. It turned out fine. I have used them for years. They do a good job. They did it according to code. They did promptly and cleaned up. They did all the things a good company will do.

J.G. – Toluca Lake

They did some plumbing work including repairing a toilet that wasn't functioning properly and clearing a stopped up drain line. They were friendly and fairly prompt.

D.M. – Van Nuys

They came out to do some plumbing work. They did a good job. I would use them again.

F.G. – Toluca Lake

They came out and fixed our toilet which had a couple of problems. They also fixed a leak in our shower head in the same bathroom. It turned out great. It was a weekday and we had to go to work. My husband called at 9am and the work was finished at 10:30am. They came out, took care of it, were pleasant and we have had no future problems.

T.B. – Burbank

They have done drain cleaning in the past. They did fine. They came, did the job, were friendly, cleaned up, ant it was fair price.

N.K. – Los Angeles

We have a drainage system that they come out annually and clean for us. It is around the pool. They have been doing work for us for many years. They are reliable and do good work. They respond promptly when needed. I would call them for any plumbing work to be done.

N.H. – Encino

They cleared a clogged line. They were alright and I would use them again.

K.G. – Sherman Oaks

They put in a waterheater. They did a good job and it still works.

S.F. – Sherman Oaks

We have been using them for 30 years for plumbing. They replaced the main line. They have unclogged sinks and bathtubs. They have added lines and replaced lines for added water. They installed a sump pump. They have replaced our water heater twice. One time our water heater was bad and they came out and replaced it with no problem. They did drain cleaning most recently as well as replacing some washers. They replaced all my faucets over a period of years.

I continue to use them because I can call them at whatever time and they will have someone out right away. I think they are fairly priced. If it is a big project they allow you to make payments, like when we had our main line replaced.

L.H. – Studio City

They did some plumbing work relating to our bathroom. All of the plumbing in the bathroom was clogged up and backing up. They got it fixed for us. They found roots growing in the pipes under the house and they had to get that cleared. We have been using them for about 10 years. They provide excellent service and they are honest. They always attempt to do a good job and they are very knowledgable.

M.L. – San Fernando

We had an emergency one night and the staff were extremely accomadating. They came out immediately, fixed the plumbing problem, charged me a fair proce, and I was very pleased. I would recommend this company to any of my friends and family without any reservation.

S.M. – Valley Village

Reckon and Reckon Plumbing has been servicing my home and my rental properties for many years. They have always been clean, courteous and professional. They get the job done and do it in the most efficient way possible. It is reassuring to know that I can always count on them!

T.G. – Mission Hills

Reckon has come out to service my home a few times now. They have always been professional and polite. They are definately not the cheapest but they are not the most expensive either. The GUARANTEE their work and they make sure the job is done right.

G.H. – Los Angeles

Plumbers for Life!

We've been with Reckon & Reckon for 25 years. They are truly the best, and they're the nicest people as well. Steve takes pride in his family-owned company. Top service and quality -- you can't ask for more. Use them, you'll be thrilled!!

P.F. – Northridge

Reckon & Reckon Plumbing Co Inc replaced the drain pipe that went into the house. They came out in May. It was kind of an emergency so they did a quick turnaround to get into my house like some hours after I called them. They did the job the same day and everything is working great so far. I had a backup plumbing issue and it had to do with the outside line.

C.M. – San Fernando Valley

My kitchen drain was clogged. I emailed them for an appointment that evening. I like that they have an e-mail option on their webpage, but I thought it would be best to call the next morning to confirm the e-mail when I didn't receive a response. The woman who answered the phone had a lovely voice, and said she didn't receive the email, but would schedule service for me that same day. I know technology can be unpredictable, but I am glad she was friendly and scheduled the appointment. The technicians arrived between the hours as per phone conversation. They were clean, friendly and knowledgeable. 

R.S. – Beverly Hills

Michael came out to maintain the tank less water heater. They also checked the toilets and the faucets and their was no extra charge for that. They have done all of our plumbing work for the last 20 years. He is usually in the neighborhood and will stop by his customers homes to see if there is anything to be done for them. They do have a special technique they use when they unclog a drain. They have had to do that for us before and we have had zero problems with the drainage since.

Their work is top quality and they do not skimp on materials. They do not use flimsy copper tubing they do use real copper piping. They stand behind their work 100% yet we have not had to use that. When we call they are very responsive. You don't always get what you pay for, but you always pay for what you get.