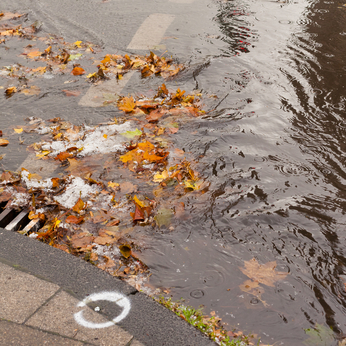 Rain is a welcome change to the heat in Southern California.  The change in weather does bring with it some problems.If you have French Drains, you must make sure they are kept debris free.  Allowing debris to build up will cause flooding and water to back-up in areas where there should be no water.  If your French Drains go an area with actual plumbing pipes, it can cause a blockage in the pipe or pipes.
Another potential problem is a fountain.  Fountains usually recycle the water running through them, but that water comes from pipes.  If your fountain becomes full of debris from heavy rain, it must be cleared as it could back-up to the pipes.  Leaves in pipes are a serious problem.
Cleaning The Pipes
Keeping the area around your clean-out is especially important.  If that lid pops off in the rain and/or intense wind, it is possible for it to fill up with the leaves, small branches, and bundles of dirt.  If the aforementioned do not drain to the main sewer promptly and smoothly, you may be looking at a major back-up in your lines.
All water heaters have venting pipes that come out of the top of the actual water heater and through the roof.  The vent must be kept clear of debris.  Make sure it is up to code.  Also, as an aside, when you are checking for debris, check to make sure the seal around the vent is properly sealed so you do not have leaks.
If you live on a street with sewer drains at the curb, pay attention to the amount of leaves and debris along the street.  DO NOT attempt to clear this area yourself.  The openings can be wise and in intense weather can be dangerous.  Call your City's street maintenance division and inform them of the situation.  They will send out a street cleaning detail to deal with the problem.
Everything is connected and an issue at the street can affect to the main to your house.  Be mindful of making sure the flow into your home is as powerful as normal and the out flow is as smooth and fast as possible.