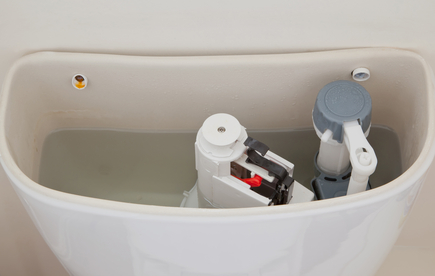 It will happen eventually; you will reach to flush the toilet and the handle will not be moving.  This is one of the easiest fixes in plumbing.  A toilet tank lever is inexpensive and takes less than ten minutes to repair.
The toilet tank lever is the mechanism which pulls the chain up that moves the flapper.  When the flapper comes up, it drains the water from the tank, forcing the water out of the toilet and into the sewer lines.  When the chain releases, the flapper goes back down and the tank fills for the next flush.
Parts of Toilet Tank Lever
The toilet tank lever consists of the handle, a nut to hold the handle in place, and a piece of metal or plastic, (a rod,)  that attaches to the chain.  You can buy toilet tank levers at most hardware stores.  You will have to first identify the location of your handle and the type of toilet you own before you make your purchase.
When you arrive at the hardware store, you will see multiple choices.  They range in price from $4.99 to $19.99,  They will come with plastic connectors to the chain or metal.  Metal is a sturdier, more long-term solution.  There is the standard, non-fancy handle, and handles which are more decorative.  Some are marked, "universal," which means they will fit pretty much any toilet.
Once you get home, remove the tank cover.  If the nut is intact, unscrew it, BUT MAKE SURE THE FLAPPER IS DOWN SO THE NUT DOES NOT MAKE ITS WAY INTO THE HOLE underneath the flapper. Once this is done, unhook the chain from the rod.   After you get the mechanism unscrewed, pull the plastic or metal rod through the hole.
Replacing it is just as easy as the removal of the old one.  Now, put the new rod through the hole in the tank.   Put the nut around the rod and put it on the screw attached to the handle.  You are done!
If for any reason you run into trouble, call Reckon Plumbing for some help!  We are always happy to help our customers.