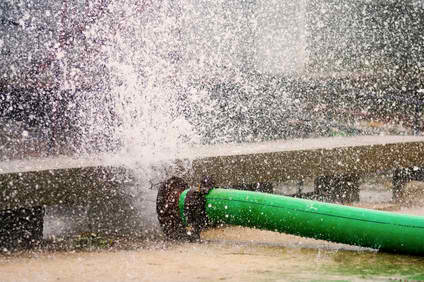 One of the worst mistakes a homeowner can make is to ignore the signs of impending plumbing chaos.  If you have water pressure too high or too low, a flooded lawn, large indentations on the lawn, or persistent clogging, please, do not ignore the problem.  Call us right away.
High and Low Water Pressure
High water pressure can damage the water heater, the pressure valve, wear away pipes, corrode rubber components, and can cause a rupture if a pipe is in weakened condition.  It can be an extremely costly avoidance!  At this particular time in our state, the fines could be significant.
Pressure which is too low will not rush enough to cause damage, but it is an indication there may be a leak.  If water pressure is coming in to low and slow, chances are you are losing water before it reaches the faucet you are trying to use.  It can also make flushing the toilets difficult.  If you notice low pressure, give us a call.
Flooding or pooling of water on your lawn can mean you have a leaking pipe.  This should be taken care of promptly as sitting water can lure pests which are dangerous, and again, the extreme water usage will cost you a lot of money.  Finding the leak and fixing it will save money and save our already desperate state from losing more water.
Indentations in your lawn could be an indication that your sewer pipes are breaking.  A broken sewer pipe can saturate the lawn with water, urine, and feces.  This is one of the most urgent plumbing situations.  It is a bio-hazard  and can make your family ill.  If the damage is significant enough, a treatment will be required to decontaminate the area. This is a very serious situation.  This requires an immediate call to a plumber.
Persistent clogging is a blaring warning sign that the sewer line has a blockage.  It can be any number of things; toilet tissue, roots from a tree, pieces of debris which can't pass, etc…. This kind of situation can cause a rupture of a section of pipe if enough pressure builds.  If it backs up into the house, it will cause a mess, and the mess will be human waste. Clogs that happen often and slow to drain must be addressed immediately.
Our goal is to provide you with our best general advice possible on this site, and when you need us, to work fast, efficiently, and within your budget.  We are here to help.