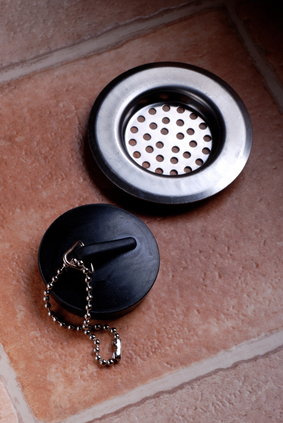 There are many stories that involve a child putting something in a sink or tub drain.  The incident usually ends with a call to the plumber, the search for the known or unknown object,  maybe the removal of plumbing fixtures or pipes, and, even less fun than the aforementioned, a check being written.  And it could have been avoided with the use of a sink stopper or strainer.
Most sinks and tubs have the standard stopper which can be raised to release water down the drain and when lowered, allows the sink to fill.  Rubber stoppers are a more old-fashioned style, but function the same way.  Having a traditional stopper comes in handy when doing hand-washing  but when there are small children in the house; it can allow enough space for something just small enough to fit in, but big enough to block the flow.
A screen sink strainer will catch the things that can pass beneath the edge of a traditional sink stopper. What makes the screen sink strainer different is that the small size of the screen material prevents something even the size of a grain of rice from fitting through the mesh.  It catches just about everything dangerous to your plumbing and things you don't want to lose to the sewer system.
In addition to catching the items belonging to your little ones, the strainer can also catch earrings, rings, retainers, etc…items of value which are costly to replace. The strainer also catches hair, which is a chart topping clog maker.   The drain screen strainer can also be used in the bathtub.
In the kitchen, screen strainers are very useful.  They prevent the loss of small items listed above, but also prevent large pits, small plastic kitchen items, cocktail forks and knives, shot gasses, small jar lids, etc…from ending up in the garbage disposal.  It's never a good idea to stick your hand in the disposal, so this is a good measure for preventing the dangerous reach in near the blades.
On the non-garbage disposal side, the screen sink strainer keeps food from going down the wrong drain.  A mass of food is just as much a menace as a toy or clump of hair.  If it collects, it can require the joints having to be unscrewed and can cause a terrible odor.  It's better to prevent damaging items of any kind from going down the drain in the first place.
The great news is that a screen sink strainer can be purchased at most kitchen, hardware, or dollar stores.  They are inexpensive, easy to clean, and easy to install.  Most often, they come in a pack of three and in each pack there are three different sizes.  A small investment, a few seconds to complete installation, and you can prevent at least a bad odor, and at most, a costly plumbing repair.