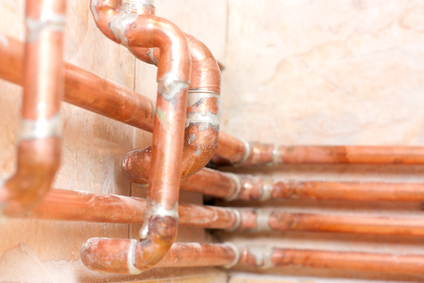 You have perhaps done some research, read many articles, talked to plumbers, but you just are not sure if copper piping for your home or business is the right investment.  Do you really need to make the change?  How long will the pipes last?   Are copper pipes genuinely the healthiest choice for my family?  How long is the warranty on such a major investment?
Long Lasting Pipes
Copper pipes are the only ones which come with a fifty year warranty from the manufacturer.  The manufacturers resolve to back this product as it withstands any circumstance.   There are amazing long terms results.  With proper installation, copper pipes are your best investment.
Copper is a natural element making it environmentally friendly.  It is light and strong.  It can withstand all temperatures.  This element is lead-free and if used with lead-free connectors can keep your water supply free from lead contamination.  Cooper pipe resists corrosion naturally.
Copper pipe with most often last longer than the building in which it is installed!  It has been used for close to seventy-five years and most buildings, residential and commercial, now have cooper pipes.  It rarely has leakage issues and is virtually maintenance-free.  It is a plumber's and a homeowner's dream come true.
Copper is a win-win for every homeowner and business owner.  It does not require the use of corrosive and dangerous solvents when being installed which increases it's environmental friendliness and keeps your family safe from poisonous compounds.  Copper does not melt until it reaches in excess of 2000 degrees F.
Copper pipes are also naturally bacteria resistant.  Contaminants can neither penetrate nor be absorbed by copper pipes.  If you are looking for something virtually indestructible and cost effective, copper piping is your best bet.
We specialize in installing copper pipe and the manufacturers we use are top-rated in the field.  Reckon can give an evaluation, an estimate, and if you choose us, we will install the pipes with precise skill and for a fair and competitive price.