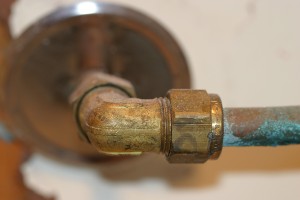 If you have seen a certain Oscar winning film* wherein one of the main characters, (an Italian plumber with decades of experience,) points out the virtues of all kinds of plumbing pipe, then you are familiar with copper re-piping! If you have not seen the movie and have never heard of copper re-piping, here is all you need to know.
Advantages of Copper Re-piping
Copper re-piping is the permanent replacement of previously laid pipes. Copper is the highest quality material for indoor plumbing. It lasts quite a long time, is safe, exceptionally light in weight, and does not rust like galvanized pipes. Galvanized pipes will erode over time.
Copper pipe can be bent to fit any space necessary. This is not true of galvanized pipes, which is what most older homes in the San Fernando valley and Los Angeles have as their plumbing lines. Since copper pipe is easily bent, it is particularly good for older homes as it can be made to fit tight and awkward spaces which are very common in an older house.
If you have noticed a drop in water pressure, (noticeable, not very significant,) it may be the slime caked in your galvanized pipes or the holes which have been made by rust. Also, if your water appears dirty or starts to smell bad, it could be from the grime in the pipes. If there are holes in the pipes….well, that is not a minor problem; unfortunately, it is a common one if you have decided to live in, and love, an older house.
Copper re-piping is neither a quick installation nor is it a cheap one. However, once you make the decision to change your pipes, it can truly change how your home feels and functions. Your washer will fill up faster, your shower water will not smell weird, and you will not have to think about changing your pipes again for dozens and dozens….and dozens, of years. All of these mean savings in the end.
The truth is, plumbing is one of those things that cannot be ignored and requires some investment on occasion. You cannot live comfortably without it and your home is your haven. When it is in working order, it can be the most peaceful place on earth.
*The film is MOONSTRUCK and the plumber was Vincent Gardenia.