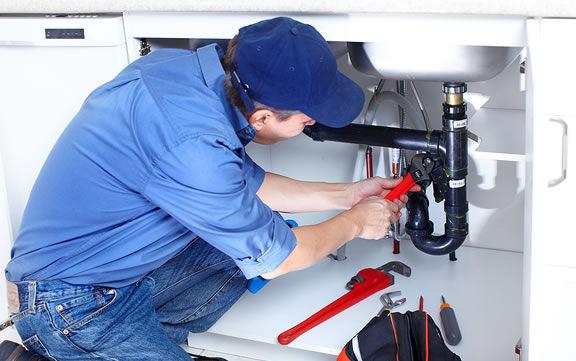 Rooter service. Does the phrase trouble you? Most people cringe when they see a clogged drain or a plugged-up toilet. It is a serious inconvenience, and if it reaches a critical situation, a real mess!
Clogged Drains
Clogged drains can be anything as simple as globs of hair or a more complex situation in which tree roots have invaded your pipes. Any issue involving plumbing which is not draining should be addressed promptly so that the offending article does not get pushed farther down the line. If it is more complex, such as roots, you should also address this quickly as they can make bigger cracks which can lead to a major break in the line out to the sewer.
Do not put sticks, metal hangers, rods, or any other plumbing implement of torture in your drain. It may seem like an easy, cheap fix, but if it is done incorrectly, it can make the situation worse. Also, try to refrain from using chemicals which require gloves, ventilation, and have toxic warnings as they can be very harsh to the air you are breathing.
Toilets that do not flush… a familiar sight to anyone who, well, owns a toilet. It is frustrating, and, for lack of a better word, gross! If your toilet water is rising and rising with the clog, turn off the water at the back of the toilet. This sometimes stops the water from rising further.
Do not stick anything down the toilet. It does not matter if it is too much paper, the roots in your yard, or a toy that was 'accidentally' dropped in the toilet, forcing it down will not help. If you believe it is paper, try a plunger as it may work to loosen a soft toilet tissue obstruction. A plunger will not solve a bigger issue. If your attempt at using a plunger is unsuccessful, call a plumber as soon as you can and have them diagnose the problem.
If your garbage disposal or kitchen sink seem to be the culprits, please do not try to force anything down as it can become jammed or break off and make more significant problems. This may simply be food stuffs stuck in the disposal or line.
If any of these situations arise, the answer is more than likely requires a rooter treatment. Rooters come in sink/tub/shower size, toilet size, and major line size. A professional and skilled plumber can diagnose the type of clog and the location. If a camera is necessary, it will add to the cost of a simple rooter service, but you will have a definitive answer and a more complete fix.