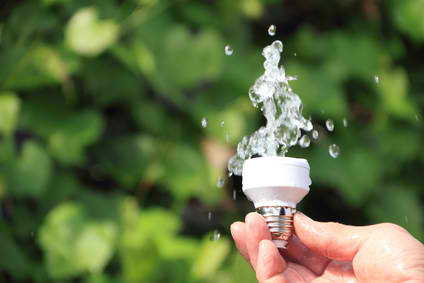 It's a rough time of year for water.  California is in a drought.  In Southern California, we are at Defcon 1.  There is truly no water to spare.  We are importing 80% of our water at this time. It isn't sub-Saharan Africa, but by our standards, it's pretty bad.  Obviously, you may not be able to run out today, right this minute, and rip out your lawn.  You may not have the time nor the money.  So, what can you do in the immediate?
DWP
The first thing to know, (the thing which will be very costly if you don't,) are your watering days and times.  The Department of Water and Power, hereafter known as the DWP, carries most of the water for Southern California.  The watering days and rules are as follows:  Even addresses, (those ending in zero or even numbers,) water Tuesday, Thursday, Sunday, before 9AM and after 4PM, only, and for 8 minutes per zone, and odd addresses water Monday, Wednesday, Friday, same times, same duration as even addresses.
Please visit the DWP page on water conservation, watering day regulations, and some wonderful rebate offers if you are able to rip out your lawn and replace it with either turf, rocks, water-saving plants, or other material for which the DWP may compensate you.  Please, also use this page to get information on reporting water wasters. Wasting water during this critical time costs us all.
There are very concrete needs for water and, unfortunately, this may make our yards a little less appealing this time of year.  It isn't necessarily nice to look at and it takes some work gettingr it back into shape when the Fall/Winter hit, but we must keep our water flowing for washing, drinking, fire fighting, etc….
Aside from replacing lawns, there are easier, more immediate ways to reduce water consumption.  Turn off the tap while you brush your teeth, make sure your washing machine level matches the load, and run your dishwasher at the shortest cycle possible.
Change your toilets and shower-heads to low-flow.  If you have water left in the kettle or a bottle that's been sitting for a while and you can't drink, toss it into the lawn or your plants.  Make sure there are absolutely no drips around the house.  For a full list of things you can do, access the above website.  Summer is just starting and there's a lot of water to be saved!