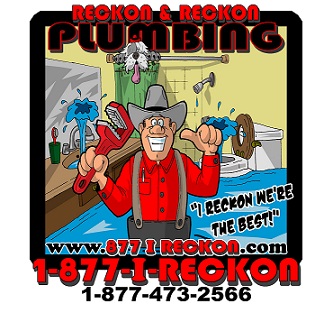 We are going to answer the question head-on; "WHY do plumbers charge so much money?" There are many answers out there on the internet. "Because they can." "Because they are awful people." "Because they are greedy." These answers are true in some cases, unfortunately.
Here at Reckon Plumbing we pride ourselves on honesty, hard work, and providing top notch services. We also believe in being competitive in the plumbing marketplace. We are committed to the following missions:
1-You will be told the truth about what needs to be done.
2-You will never be charged for work that has not been performed.
3-You will get everything in writing.
4-Our plumbers are licensed and bonded and we are insured, and at all times.
5-We 100% complete every job we start.
The fact is, great plumbers require a higher salary. A skilled plumber is going to ask for a good wage, and here at Reckon,we hold our staff in high esteem. We can not provide our clients top notch services if we do not have the best of the best of a highly skilled labor force. Our plumbers go to the outer limits of time and team work for our clients. They have to impress the heck out of us before we let them represent our company.
We have the most modern high-tech machinery, well-maintained vans and trucks, and office staff that are reliable and effective. Our call center never closes, so we have staff 24 hours a day at the ready for our clients. Many businesses shut their doors at 5PM, so the staff leave, the lights go down, and the calls stop coming. Not here are Reckon. Our phones stay open which means our staff are on call all day and night, the lights are on, and the phone will be answered. We are known for absolutely, positively, NEVER charging for "emergency," calls. Our rates remain the same all hours of the day.
The old saying, "you get what you pay for," is exponentially true in the plumbing industry. If someone is giving you the deal of the century, please be very wary. Always ask to see an itemized list for your invoice. As the consumer, you have the right to ask to see the license and proof of insurance. Any hesitation on a plumber's part to provide essential information, (written estimates* and receipts, an accounting of items repaired, replaced, or installed, and professional references,) is someone you should not trust. If that little feeling in the pit of your stomach takes over, we recommend you go with the feeling.
The truth of the matter is that there are some real bad guys out there whom are going to take you for a ride and take the shirt off your back. They will tell you things need repair when if fact they are in perfect working order. They will keep piling on the dollar amount when you are most vulnerable. In some cases, they will flat out steal from you. We assure you, at Reckon & Reckon Plumbing, you need not fear any of those awful situations. Reckon & Reckon owners and staff hold all the tenets of our the plumbers's oath close to our hearts and our company's mission.
*We pride ourselves on getting to the issue quickly, but there are some cases in which more damage is seen upon further inspection and this can happen once work has begun. We ALWAYS halt the work and consult the client before we continue working and the estimate is altered to include any additional charges.